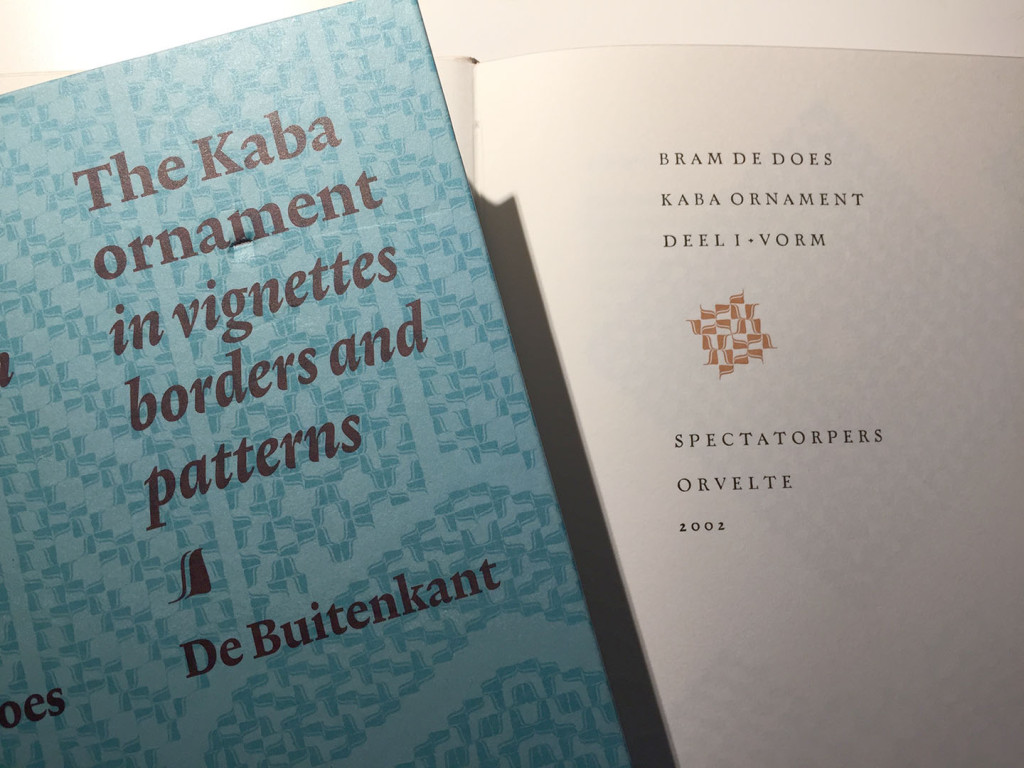 Well, this is not the first time that I publicly declare my love for this amazing piece designed by Bram de Does, but I insist on advertising it since I do believe more people should be aware of this part of his work, beyond Trinité and Lexicon.
The first time I came across this beauty was during Type and Media, while we visited De Buitenkant and Jan de Jong showed the class the notes and proofs for the Kaba ornament book by Bram, which they published in 2006.
I immediately saw how amazing and powerful that little piece of design was. Although it seems very simple, this "little drawing" is very complex. It is able to produce countless options of vignettes, borders and patterns, as illustrated in his books about the ornament. I don't believe there is any other ornament as versatile and elegant as this one. The asymmetrical shape has a perfect balance between black and white, just like yin and yang. The curved lines are very refined, adjusted by the skilled eyes and hands of Mr. de Does.
A few years later I was invited by Mathieu Lommen and John L. Walters to be part of the Eye Archive night during ATypI Amsterdam, where I had to pick an item from the Special Collections to highlight and present. Even though they have unique materials, I felt like the Kaba ornament had to be shown, so I picked the book through which I was introduced to Kaba. Not surprisingly, many people didn't know about it and were immediately enchanted.
At the end of the conference I got a very special surprise gift from Jan Willem Stas and the Type and Media class of 2013/14 (thanking me for the organization of ATypI Ams and having involved them in the team). They bought me another Kaba ornament book! But this is a very special one, as only 175 copies were produced and I am the proud owner of one.
Since then I wanted to write to Bram de Does and visit him in Orvelte, but I always thought I needed to come up with the right questions and have something nice and interesting to say to him. Not having done this is something I deeply regret now.
When I moved to The Netherlands, I started talking to Thomas Gravenmaker, who called Sander Pinkse and asked him to bring a few pieces of the original Kaba Ornament in metal to show me during an event at the Special Collections. I almost had tears in my eyes when I held them! Then I had to hold my breath, when they told me only the printers that are part of the group Drukwerk in de Marge are allowed to use the ornament, but that I could do it, and the only request was that I needed to supply a copy of the printed material to each one of them (Thomas, Sander and Bram!). But what could I do with the ornament that Bram hadn't done himself after over 30 years of sketching possibilities? I had a few ideas, but nothing seemed good enough.
I really should have known better and not waited so long, as early this year we got the sad news that Bram de Does died on December 28, 2015. It was a great loss for the type community, and a special one for me. Then I knew I had missed the opportunity to know the person that had designed the ornament I admire the most and overwhelm him with all the questions I could possibly think about.
The idea of printing something with the ornament is still in my mind, but gladly, right after this very sad news, Thomas contacted me asking to join him to teach a workshop with the Kaba ornament. Of course I immediately said yes and we are going to do it this March in his letterpress studio in Amsterdam. Can't wait!
Well, this story is not over as you'll probably hear more from me about it. But for now, I think it's not enough to simply show some images that would represent the range of possibilities that Kaba allows; it wouldn't do it justice! So I would rather show you this video (which was in the background during my presentation at Eye Archive) where I flip through some of the 504 pages of the book "The Kaba ornament". Enjoy! Isn't it jaw-dropping?
<a href="https://vimeo.com/155011764">Kaba Ornament (book)</a> from <a href="https://vimeo.com/user9509828">Marina Chaccur</a> on <a href="https://vimeo.com">Vimeo</a>.