If you, like me, need some last minutes gifts or just want to make some sweet treats for the dark times, we have collected some traditional regional recipes to celebrate winter solstice.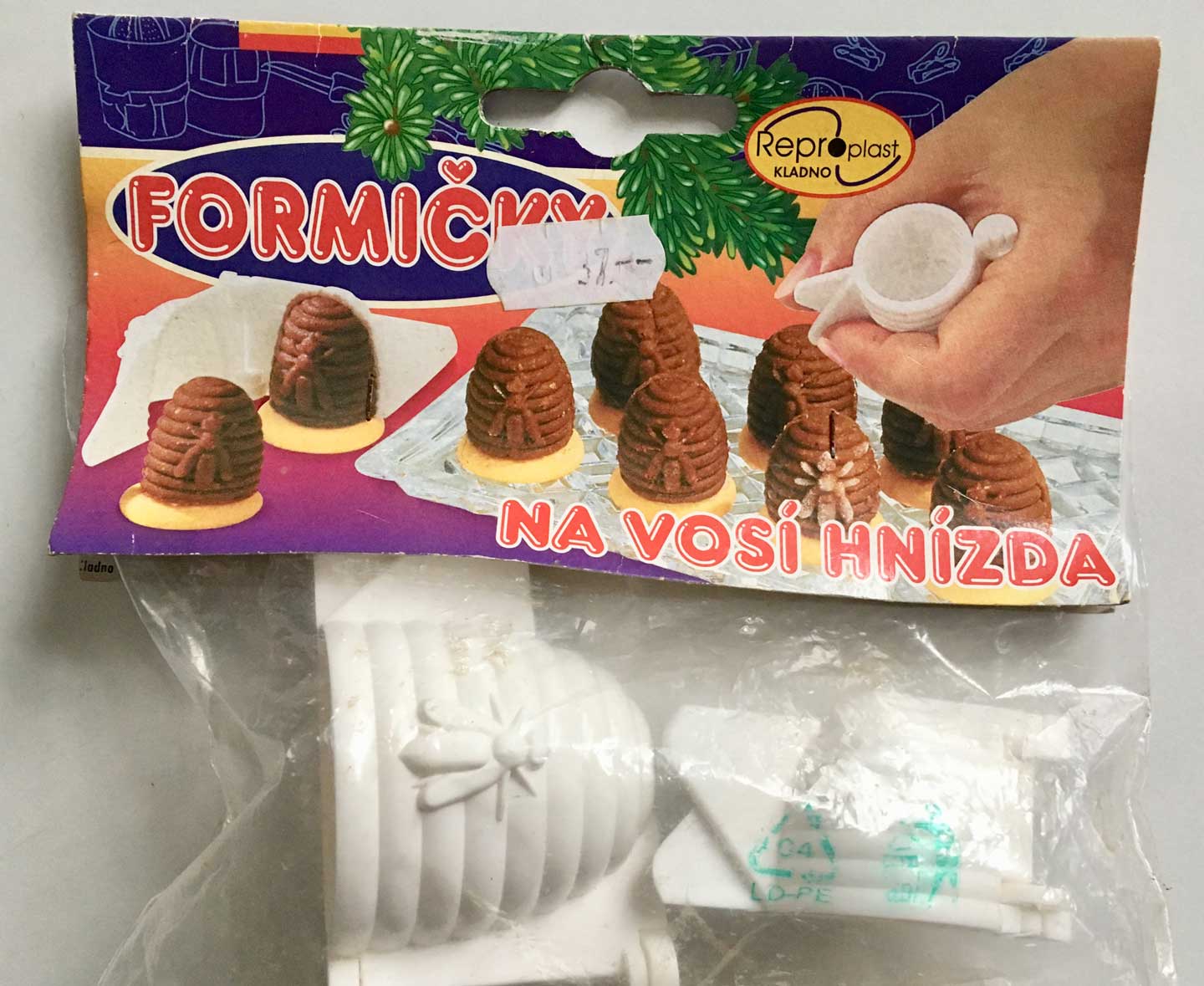 Discussion starter was this curious apparatus I once bought in the Czech Republic but never got around to try to use. Veronika Burian was able to identify them as the iconic Vosí Hnízda – Czech rum beehives – she knew and helped with translation of the recipe: "1 žloutek = 1 egg yolk. The last 4 things are for the filling, and 240 gr of crumbled biscuits, not flour. They are super lecker!"


If you want to make them in your own plastic beehive form or improvise a different mould: Mix 220 gram fine sugar, 240 gram ground ladyfinger biscuits, 135 gram butter, 3 tbsp (tablespoons) cocoa powder, 4 tbsp rum, 3 tbsp milk, 1 package vanilla sugar or some vanilla extract into a dark "shell" dough. For the filling mix 100 gram butter, 1 tbsp rum, 1 egg yolk and 80 gram fine sugar and fiddle it into the middle of some dark dough. No baking. Just place each beehive on a round (ladyfinger-like) cookie.
🍪 🍪 🍪 🍪 🍪
Speaking of traditional regional specialities, Doris Lang contributed her recipes for the delicate half-moon-shaped Vanillekipferl: "This is an iconic, famous, traditional Christmas cookie from Austria. I know, some Germans might say it is German, but if I think of the most iconic Austrian recipe, that would be it." Vik again though: "The Czechs would claim that Vanillekipferl are their invention. My mum makes them every Christmas. For us they are called Vanilkové Rohličky." Either way, this German can attest they are equally indispensable in my family and definitely delicious.
Ingredients:
11/2 cup (260 g) flour
1 egg yolk
2 tsp. vanilla extract
3/4 cup (80 g) powdered sugar
1 cup (100 g) ground almonds
1 cup (200 g) cold butter, cubed
1/3 to 1/2 cup vanilla sugar (sugar mixed with ground vanilla bean)
Instructions:
Put the flour, egg yolk, vanilla extract, powdered sugar, and ground almonds in a bowl and mix with a mixer. Feed butter cubes one at a time until it's incorporated, and the dough comes together. Lay a piece of plastic wrap on the table. Dump the dough onto the plastic. Shape the dough into a log, about 2 inches in diameter. Wrap the log in the plastic wrap, kind of squeeze and form as you go. (Vik says no need for the plastic wrapper thing, you can also just form long rolls and put them on a plate.) Refrigerate for 30 min. Preheat the Oven to 350 °F / 180 °C.
Put the Vanilla Sugar in a small bowl. Take the dough out of the fridge, slice off 1/4 to 1/2 inch slices and roll them between your hands to a mini log shape. Taper the ends and bend the dough to a crescent shape and put it on a cookie sheet. That's one … 49 to go.
Place them on a baking sheet with about an inch of space in each direction. Bake for 12 minutes until browning around the edges. After baking, roll the cookies in vanilla sugar while they are still warm, then set aside to cool. Store in an airtight container. Eat and get a sugar buzz.
🍪 🍪 🍪 🍪 🍪
Speaking of recipes involving almonds, I couldn't let Siena's to-die-for Riciarelli go unmentioned:
125 gram almonds, ground, better to slightly roast them in a dry pan
75 g fine sugar
50 g powder sugar
1 pkt vanilla sugar
1 egg white
Cut into the traditional rhombus shape or any way you like and best let them dry for some hours before baking but I am usually not patient enough to do that; bake at 160 °C for 15–20 min. They should be very lightly golden. Don't let them brown too much otherwise they get too hard and dry.
🍪 🍪 🍪 🍪 🍪
Speaking of Italy, Amy Papaelias contributed her grandmother Michelina's Italian Sesame Cookies:
1/4 cup butter
1 cup sugar
3 eggs
1/2 tablespoon vanilla
2 1/2 cups flour
3/4 tablespoon baking powder
1/8 teaspoon salt
Mix batter together and chill several hours or overnight. Roll pieces in shape like fingers, then roll in sesame seeds. Cook on ungreased cookie sheet at 350 °F. Can double or triple if you like. Eat with hot tea or coffee.
🍪 🍪 🍪 🍪 🍪
Speaking of Americans making cookies, Tiffany Wardle totally blew our collective minds with this West-Coast speciality: "The most American cookies might be Cake Mix Cookies".
1 box of cake mix
2 eggs
1/3 cup oil (I use coconut)
1 tbsp water (I think proximity to water level requires more or less)
Extra: chocolate chips, walnuts, other
Use a small scoop for precision (or not). Bake at 375 °F for 10 minutes.
Note that most online recipes say 1/2 cup of oil. I find them too loose and oily. Also easily turned into a large cookie cake by simply dumping the entire mixture into a pan and flattening it.
🍪 🍪 🍪 🍪 🍪
Do you gals and guys have favourite recipes from your region? We'd love to hear about them in the comments. (Take a leaf out of Lisa Schultz's book, for instance. She has a whole blog dedicated to baking!)
And if any of you are going to make some of these delicacies please send us photos! Happy holidays and a sweet and rich start into 2019 😚