Ho Ho Holler type friends,
The holidays are fast approaching and we 'bettes wanted to give you some gift inspiration for the festive season.
I (Nicole Arnett Phillips) am particularly enamored with this amazing new project by Aussie letterer Jess Cruickshank, her Christmas Calligraphy Drive is an effort to raise funds for the Asylum Seeker Resource Center. Through this website, you can order gift tags personalized with names written in beautiful calligraphy. This lovely penmanship is for a great cause, 100% of gift tag sales will be donated. But shipping is in Australia only (unfortunate for those of use further afield)!
Jessica Hische's New York Times best-selling book Tomorrow I will be brave takes readers on a fantastic journey that encourages them to be adventurous, strong, smart, curious, creative, confident, and brave. But it also reassures them that if they haven't been able to be all or any of those things today, there is always tomorrow, which is full of endless opportunities. Also be sure to check out Jess's store for a range or art and merchandise that would please any letter lover.
I am also head over heels in love with Maria Montes Fish Water bottle – it makes a terrific present for anyone who loves type, art, fish or wellbeing! (This is made to order though so be quick to have in time for the holidays). Maria also has some stunning art available to buy (with shorter lead times) in her shop.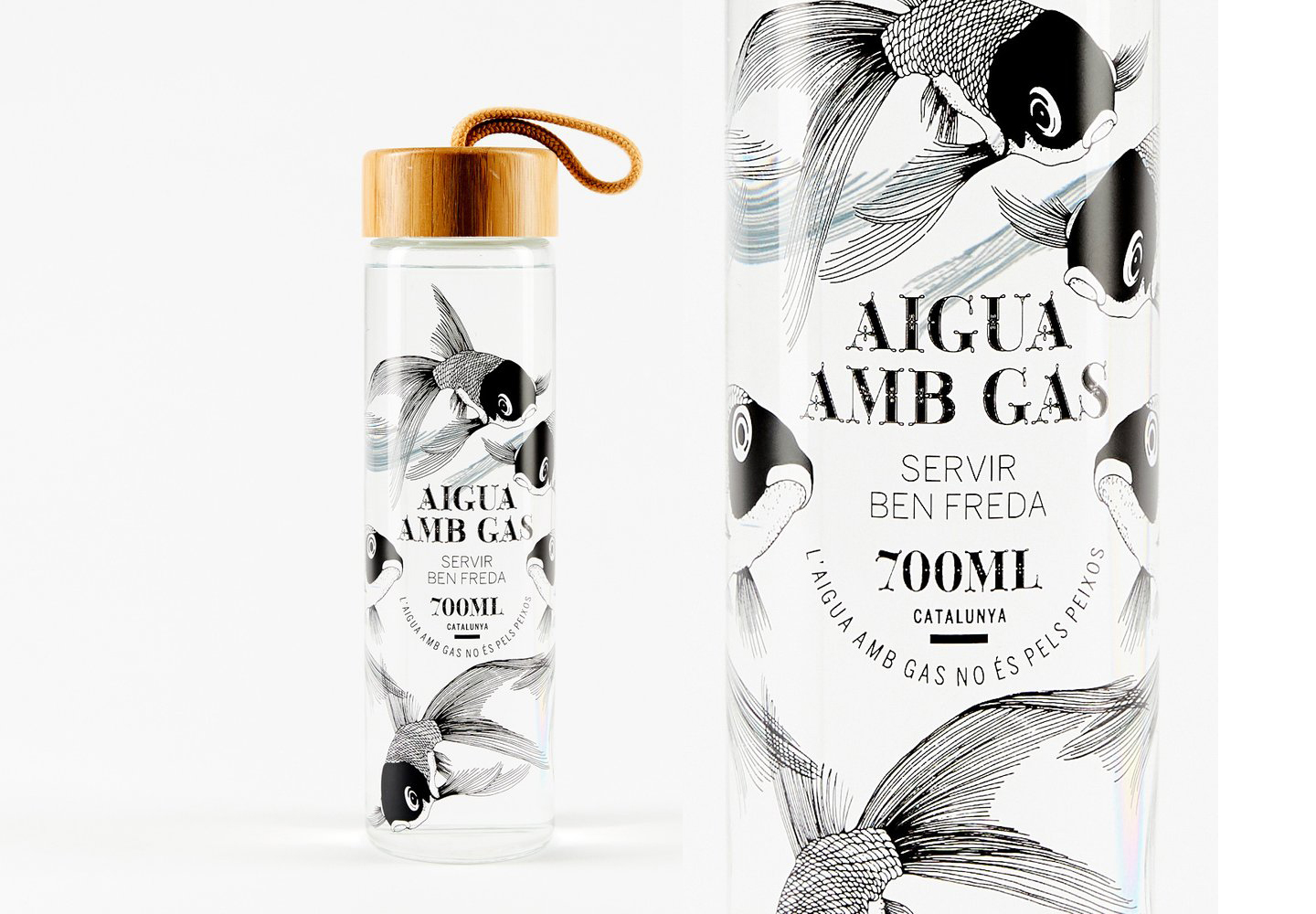 Taylor Childers, has her environmentally responsible (and deliciously scented) Wax BBY candles made in Greenpoint, Brooklyn with 100% American-grown soy. Cotton wicks free of lead or zinc. The wooden wicks are American made, sourced and manufactured in the USA from (FSC)-Certified mills. Always hand poured. Always clean burning. These make gorgeous gifts.
Libbi Ried's hand-crafted pens are exceptional. They bring together form and function and every calligrapher should own one of these,
This pair of limited-edition cotton tote bags are the result of a year-long project for which Pooja Saxena drew the Devanagari letter "ka" in a different way every week. From abstract to calligraphic, stenciled to bitmap and extra-condensed to super-wide, she captured every style in the book, and these totes look super cute.
Martina Flor is the queen of goods, her shop is full to bursting with items to covet. Including Jewellery, stationery, books and accessories and even a handy gift guide which bundles her secrets of lettering book with other products from the store. (This book is a must-have for anyone with interest in lettering or type design).
Have you read Marcel's letters yet? If not you must buy yourself this book for Christmas then buy another for anyone you know who is interested in history, romance or type design. I am casting the net wide on this one because it has so much for everyone. Carolyn Porter's book is the result of years of research. Documenting both the type design process and her increasingly desperate search to uncover the mystery of Marcel's fate during WWII, seeking answers across Germany, France, and the United States. "The chapters of the book go back and forth between the design of the font, and piecing together answers about Marcel, one puzzle piece at a time."
Another book for the curious and eager to learn among us is How to Create Typefaces, from Sketch to Screen, 2017 English translation of Cristóbal Henestrosa, Laura Meseguer and José Scaglione's wonderful 2012 guide, Cómo crear tipografias. Del boceto a la pantalla.
My Darlin by Priyanka Batra has a bright and bold selection of paper goods 'for wise guys and sharp gals' this playful range of stationery (and wrapping paper) will certainly elevate your gift giving.
Another offering with vibrant artwork Marisol Ortega's online shop has loads to choose from I particularly love her botanical inspired illustrations.
Isabel Urbina Peña's online store has loads to choose from – art, merch and more. The 'must do pads' are notepads which will help you make-it-happen and are currently on sale and these are a must for anyone who has a desk (or fridge) so that's almost everyone right?! Also be sure to check out the badges and patches in Isabel's range as these are awesome stocking stuffers and secret Santa gifts.
Annica Lydenberg's Etsy shop is full of sign painted wonder — all in good humor these epic pieces are sure to make people smile these holidays!
And speaking of Art — I recently treated myself to one of Cyla Costa's weekly woody prints (there are loads to choose from) — these screen prints would make fantastic gifts.
Shaunna Lynn's SimpleThoughtsCo Etsy store has very well priced lettering and illustration prints as well as a crop top tee for the coffee lover in your life.
And if tees are what you love Pampatypes new store has a fantastic range.
Another awesome (but Aussie-centric) option is Amy Constable's Australian Literary diary. This letterpress printed journal was created in collaboration with author Caroline Kennon. With all the book festivals and literary events, competitions and submissions in one place and monthly reading recommendations of great Australian stories. The book is cover, was lettered by Eliza Svikulis.
The 'shakey graves' Metal Print by Jen Mussari will add a touch of lettering bling and should adorn every eager young creatives studio wall.
Whatever you decide to gift, the Alphabettes are wishing you the merriest of whatever you celebrate these holidays and a happy ever after too.